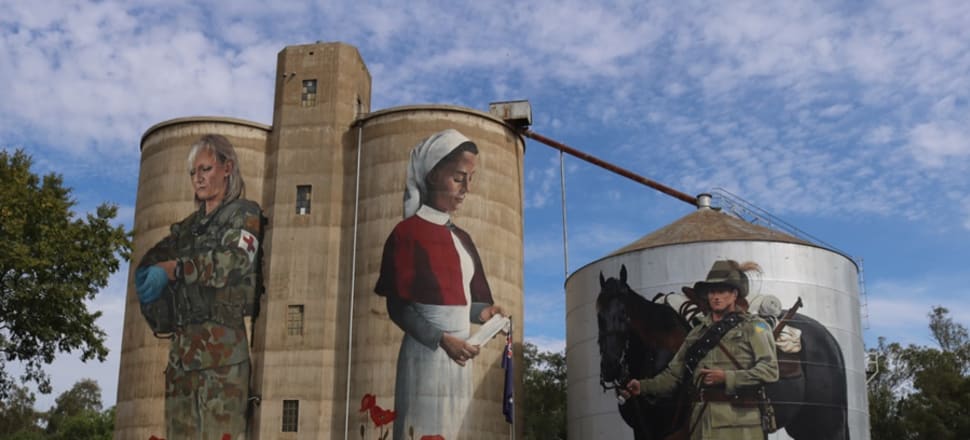 5370537724001
Devenish's population of about 200 people swelled ten-fold with a special early Anzac Day Service last Sunday, which included the official opening of wonderful silo art work.
An estimated 2000 people attended the service in front of the silo artwork which depicts two servicewomen 100 years apart – a World War 1 nurse and a modern day Army medic and now a light horseman.
Over 100 locals have raised more than $20,000 to fund the striking 20-metre silo art which has already attracted over 50,000 visitors in less than 12 months.
Nationally renowned street artist Artist Cam Scale had previously painted the wonderful mural of a modern-day Australian combat medic and a World War One military nurse standing amongst red poppies of the Flanders fields (completed in April 2018). Scale then arrived in late March this year adding the fantastic Australian Light Horseman and his steed to the silo art.
The Australian Light Horse were tough horsemen who served as mounted infantry brigades during World War 1 particularly in the Middle East from 1915 to 1918 during the Gallipoli, Sinai and Palestine campaigns against the Ottoman Empire. At the start of the war the 5th and 7th Light Horse Brigades were based in Victoria and included the 17th (Campaspe) Light Horse Regiment which was based in the region near Devenish.
Around World War I, 300 people lived in the then wheat growing town. Fifty of its citizens signed up to serve in the war. Seven diggers died and never came back. Two Devenish women served as nurses during the first World War.
It was fitting to have the traditional early district Anzac Day Service at Devenish which included the official opening of the silo art work on the disused silos.
The Anzac service was conducted jointly by the Shepparton and Yarrawonga/Mulwala RSL clubs.
The parade featured a 1920s theme, and many visitors wore period costumes and bringing historic vehicles, horse and buggies adding to the spirit of the day.
A highlight of the day was the Hawthorn Pipe Band along with trainees from the army school of health in Bandiana and the air cadets from Wangaratta. Special Anzac Day speaker for the day was Lt.Col. Alison Lee.
Yarrawonga Mulwala RSL Sub-Branch President Ian Summers described the day as "absolutely fantastic".
"It was a great crowd, with people spread right along the street. They got right into it," he said.
"There was the East Hawthorn Pipe Band, the Mounted Light Horsemen from Shepparton, period costume from World War 1 right through, vintage cars, Air Force cadets, Shepparton RSL, Rotary and Dookie Lions. There was plenty of food. The weather was great."
Trevor Hargreaves OAM, who recited the poem 'Beneath The Faded Word', aptly summed up last Sunday at Devenish. "It was a top day," he said.