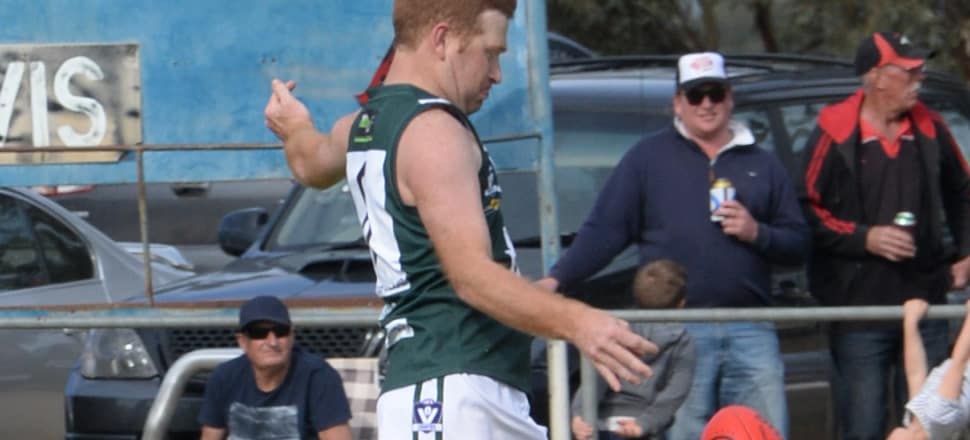 5370537724001
Rennie will compete in next Saturday's grand final at Jerilderie against Picola United after a come from behind 1-point victory over the previously undefeated Waaia at Strathmerton on Saturday.
Senior SCORES
Rennie 1.2 5.2 8.3 10.6 66
Waaia 2.2 5.4 9.4 10.5 65
Goals – Rennie: Runnals 2, Strawhorn 2, Rhodes 2, Murray 1, J O'Dwyer 1, C Ednie 1.
Waaia: Burrows 4, M Meyland 4, M Brown 2.
Best – Rennie: Murray, O'Bryan, C Ednie, Bigger, Fountain, L Ednie. Waaia: ODwyer, Richardson, C Brown, Botterill, Lynch, Burrows.
The Hoppers only led for the final 2 minutes of the match.
Term 1 saw the Bombers take their time with the ball and try to hold up play and frustrate Rennie who were unable to achieve any rhythm.
Waaia goaled, Strawhorn replied but Waaia led by 6.
Term 2 saw Waaia swing the ascendancy their way as they spread, and their use of the ball had Rennie reactionary.
They followed this with scoreboard pressure and extended the margin over 4 goals, until a free kick reversal seemed to flick the green and white switch.
O'Bryan stepped up and dragged Murray, Bigger and Luke Ednie with him to propel the Hoppers back into the match.
2 goals to Runnalls and goals to David O'Dwyer and Rhodes saw the Hoppers within 2 at the long break in what was turning into a mighty contest.
The game opened up slightly in term 3 as it became a clearance contest.
Coach Ednie and captain Fountain led by example, with Kennedy solid on his wing.
Goals to Strawhorn, C Ednie and Joel O'Dwyer sneaking down from half back, saw the Hoppers down by 7 at the final break.
As Ednie demanded his team leave nothing in the tank Waaia grabbed an early last term goal.
They held over a 2-goal lead until the irrepressible Murray goaled and the Hoppers were within a goal.
A rushed behind took the difference to 5 points before fine teamwork saw Rhodes mark 35 metres out on the boundary line.
Cometh the hour cometh the man, and although the kick was a mongrel floating finger breaker, with Strawny doing some serious work on the line, the Hoppers grabbed the lead.
A clearance and ball into deep 50 saw the siren blow to joys of the ecstatic
Hopper crowd.
A victory for the ages but the job not
over yet.
Strawhorn, Rhodes and Runnalls kicked 2 goals each.
Best were Murray, O'Bryan, C Ednie, Bigger and L Ednie.
Under 17
Rennie 6.6 42 def by Katunga 12.8 80
The under 17's season has ended going down to Katunga by 38 points. The Hoppers were never quite in the game although they had a red hot go all day.
The defence was led by Soutter at full back, who was never beaten in one on one contests, McInness floated across half back with power marking and long kicking, Shaw and Benjamin were the energizer bunnies on ball and Jack Kennedy, who finished third in the league B & F, collected a truckload of kicks. Thomas and Droop kicked 2 goals each.
Awards went to Shaw, McInness, Lovel, Benjamin, Soutter and J Kennedy.
Co-coaches Boulton and Beavis can proudly look back on the season as they have seen their group develop with 5 players participating in senior footy this year.
Goals: Rennie: Baxter Droop 2, Sam Thomas 2, Jack Kennedy 1, Tully Woodward 1.
Katunga: Max Hendy 3, Harry Hill 3, Sam Arho 3, Kyle Said 1, Daniel Simpson 1,
Ryan Cox 1.
Best: Rennie: James Shaw, Josh McInness, Alex Lovel, Brody Benjamin, Josh Soutter, James Hall.
Katunga: Max Hendy, Nick Thorpe, Daniel Connally, Tearren Clardey, Ryan Cox,
Kody Jackson.
Under 14
Rennie 3.4 22 def by Deni Rovers 7.11 53
The under 14's season is also over going down by 31 points to the strong Deni Rovers team with Rennie's score of 3 goals 4 behinds being the highest score against Deni this
season.
The Hoppers were in the game early only down by 3 points, but a 4 goal second term was the catalyst for their victory.
For the Hoppers skipper Elliott had a brilliant finals series, McInness kicked 2 goals, and has now been a quality finals performer over 3 seasons, Bennett and Bassett stood tall and Nagle was consistent from round 1 to the end of season.
Coach Stephens praised his boys after the game, with a team of only 5 top age players providing a base for further success.
Awards went to McInness, Bennett, Elliott, Nagle, Milbourne, Bassett and James.
Goals: Rennie: Dominic McInness 2,
Jack Bassett 1.
Deni Rovers: Haydn Mowat 3, Laim East 1, Bailey Caruso 2 ,Patrick Westcott 1.
Best: Rennie: Dom McInness, Fraser Bennett, Oscar Elliott, Harry Nagle, Cooper Milbourne, Jack Bassett.
Deni Rovers: Tom Blake, Haydn Mowat, Izoyah Gazzora, Jace Collins, Nic Subbings.
So the big dance has arrived and the Hoppers are looking to go back to back at
Jerilderie on Saturday.