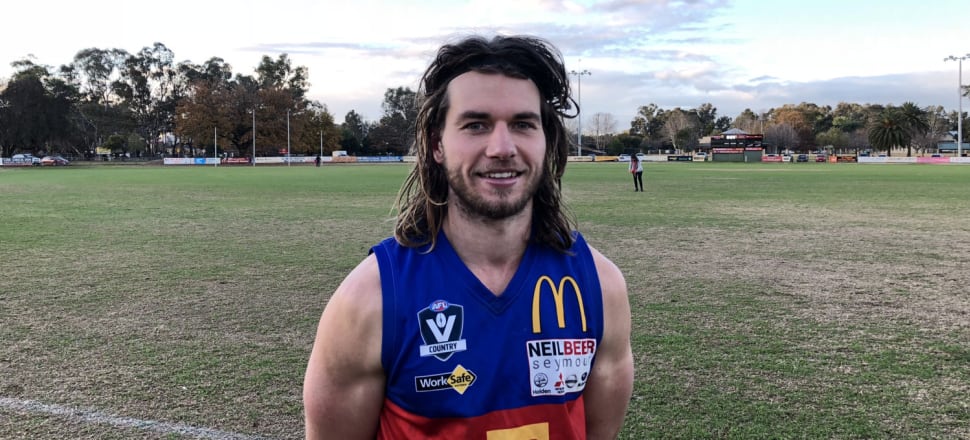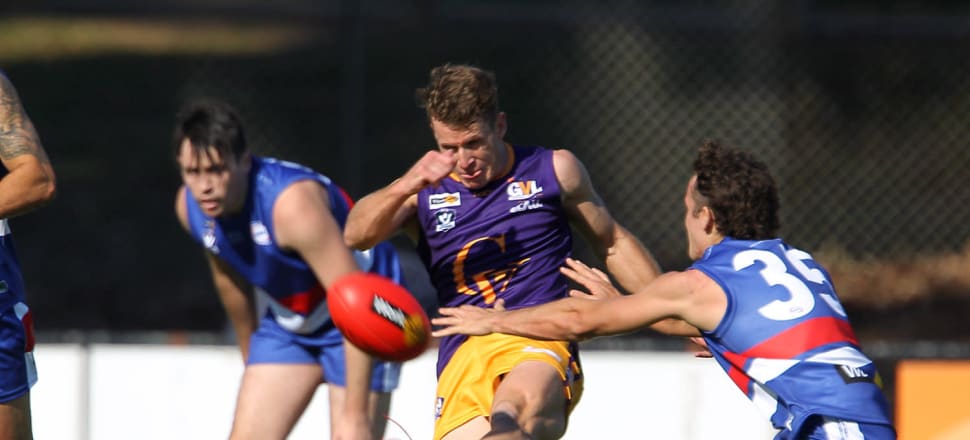 5370537724001
MEDIA personality John (JR) Ryan has named 11 Kyabram players in his much anticipated top 50 GVL players list.
Three of them – Mick Mattingly (2), Lachie Smith (3), Pat Wearden (7) and Tom Holman (8) – have made the top 10 and another two Bombers – Kyle Mueller (12), Kayne Pettifer (15) – the top 20.
Other Kyabram players to make the list were Luke Morris (25), Jordan Williams (29), Aaron Hayes (32), Brad Whitford (45) and Zac Norris (50).
Players who alternatate between GVL clubs and the VFL have not been considered by JR who will do an updated list after the home and away season.
JR's top 50 are:
1. Jason Cole (Seymour)
2. Mick Mattingly (Kyabram)
3. Lachie Smith (Kyabram)
4. Andrew Walker (Echuca)
5. Cam Valentine (Echuca)
6. Nick Fothergill (Tatura)
7. Pat Wearden (Kyabram)
8. Tom Holman (Kyabram)
9. Will Martiniello (Benalla)
10. JD Hayes (Euroa)
11. Zac Keogh (Seymour)
12. Kyle Mueller (Kyabram)
13. James Gledhill (Rochester)
14. Patty Marks (Mansfield)
15. Kayne Pettifer (Kyabram)
16. Brett Mahoney (Mansfield)
17. Shane Neaves (Shepparton United)
18. Brad Ryan (Tatura)
19. Peter Faulks (Echuca)
20. Mitch Brett (Shepparton)
21. Angus Byrne (Echuca)
22. Jamason Daniels (Tatura)
23. Kane Morris (Echuca)
24. Anthony Andronaco (Shepparton)
25. Luke Morris (Kyabram)
26. Nick Warnock (Benalla)
27. Kyle Winter-Irving (Seymour)
28. David Mennen (Benalla)
29. Jordan Williams (Kyabram)
30. Brody Webster (Benalla)
31. Doug Wren (Rochester)
32. Aaron Hayes (Kyabram)
33. Nathan Marrone (Rochester)
34. Daniel Willis (Echuca)
35. Tom Freeman (Seymour)
36. Ted Lindon (Shepparton)
37. Andrew Browne (Mansfield)
38. Tim Allan (Echuca)
39. James Lawton (Mansfield)
40. Jack McHale (Echuca)
41. Matt Ivill (Euroa)
42. Jack Norman (Shepparton United)
43. Jett Trotter (Euroa)
44. Matt Di Bella (Shepparton United)
45. Brad Whitford (Kyabram)
46. Kyle Gray (Mooroopna)
47. Harry Boyd (Shepparton)
48. James Flaherty (Rochester)
49. Sean Martin (Tatura)
50. Zac Norris (Kyabram)
Finley gets grand nod
FINLEY is to host this season's Murray League football and netball grand finals.
This means that both the Murray League and the Picola Football League will have NSW venues for their season deciders.
Berrigan was recently announced to host the Picola and District League grand finals.
Grand final day at Finley is a first for the town and will be staged on Saturday, September 21.
Breeding ground of champions
SPEAKING of Finley it's pretty proud of its feat of producing three members of the recently announced greatest NSW Australian Rules team of all time.
Finley-born Shane Crawford and Tom Hawkins made the team and fellow Finley legend Allan Jeans was selected as coach.
Another Finley player, David Murphy, who played 156 games with Sydney Swans, was named in the original squad but missed selection in the final team.
Crawford was named on the wing and Hawkins on the interchange bench in the team that boasts such greats of the game as Wayne Carey, Hayden Bunton, Paul Kelly and Lenny Hayes.
Crawford, a Brownlow Medallist, played 305 games for Hawthorn and is a four times best and fairest winner at the club. He is also an Australian Football Hall of Famer.
Hawkins has played 241 games with Geelong so far and has topped Geelong's goalkicking list on seven occasions. He is a dual premiership player with the club and has also won a best and fairest award.
Jeans played 77 games for St Kilda between 1955 and 1959 but made his mark in the game as a coach. He coached St Kilda to its only premiership in 1966 and led Hawthorn to flags in 1983, 1986 and 1989 in that club's golden era.
Also making the NSW team at full back was Deniliquin's Leo Barry, who played 235 games with the Sydney Swans and etched his name into AFL folklore with his famous game-saving mark in the 2005 AFL grand final.
Prince rules in city
KYABRAM-trained trotter Claudys Prince – god bless him – notched his first metropolitan class win with a tough staying performance at Melton last Saturday night.
Driven by John Caldow, the Prince, a full brother of the mighty mare Claudys Princess, was caught outside the leader War Spirit for the entire 2240m trip but had his nose in front at the finishing line.
It was his fifth win from 10 starts this season and the eleventh of his 44-race career so his trainer Mick Blackmore is doing a top job with him.
As owners and breeders of the five-year-old, Eva and I are pretty happy with him, particularly considering we refused an offer of $23,000 at yearling sales and ended up bringing him home to race ourselves. He has now won close to $100,000 although I'm having a bit of trouble tracking where it's gone — although Eva has her suspicions.
■Another Kyabram trainer, Brent Thomson, also had a win during the past week.
Sheer Modern, driven by John Caldow, spaced his rivals at Maryborough to notch his fifth career win in just 22 race starts.