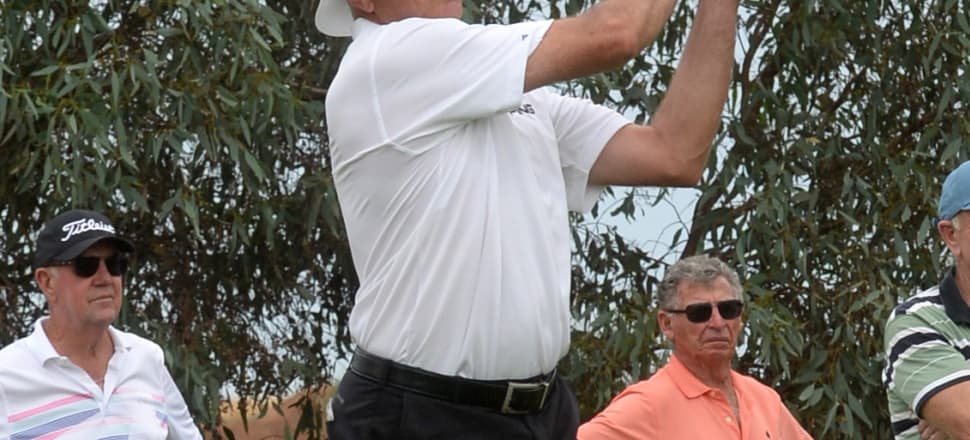 5370537724001
Mike Harwood won Black Bull Golf Club's inaugural Shepparton BMW PGA Seniors Championship with a superb 12-under-par 132, two shots clear of runner-up, Queenslander Brad Burns.
At the end of the first day, Burns and Harwood led the star studded line up of 80 professionals after both fired sizzling eight-under-par 64 rounds, with other huge names Peter Fowler (66), and Peter Senior and Peter Lonard (both 68) well placed.
It was just one stroke the difference between Harwood and Burns as the pair stepped onto the Par 5 18th. Both were on the green for two, which seemed like two putts for each but with Burns having the advantage. Harwood reduced his 30-footer to a three-foot putt. Burns got closer. Harwood made birdie and Burns, unfortunately, missed, to finish with par.
It was marvellous golf for the overall $30,000 purse and appreciated by local fans. Big names featured on the leaderboard, with Fowler and Lonard tied for third on -9, John Wade -8 and Senior -7.
It was a beautiful belated birthday present for Harwood, who turned 60-years-of-age on January 8 and who has played in the previous three, three-day Senior Victorian Open at Black Bull and Yarrawonga Mulwala Golf Club Resort courses.
The Sydney-born, Melbourne resident was crowned the winner of the Black Bull championship by PGA Legends Co-Ordinator Andy Rogers.
"After eight years, the PGA Seniors Championship has returned. Craig Owen from New Zealand last won it in 2010," Mr Rogers said.
"It's been a fantastic few days at Black Bull. Congratulations to James (James McCully, tournament director) and his team on a wonderful tournament.
"It's a great facility. When the Point Resort Apartments get going it will be world class.
"You've produced a quality course second to none. The quality of the course is what really matters. Thank you for making us feel so welcome."
Harwood also expressed his appreciation to all involved in "making this tournament very special" and mentioned the McCully family, sponsors and the four Peters – Peter O'Malley, Peter Senior, Peter Fowler and Peter Lonard for playing to make the event bigger and better.
He paid tribute to wife Donna. "She's my coach, wife, everything," the winner said. "Yarrawonga is amazing. I love coming here. I'm delighted and I'd love to come back next year." With two more years with Shepparton BMW, that's a foregone conclusion.
Tournament director James McCully said the event "works with a massive team, a family". He thanked major sponsor Shepparton BMW and all other sponsors, and paraded the groundstaff team led by Cameron Buckingham in front of the crowd for an outstanding job.
Shepparton BMW Dealer Principal Aaron Brain congratulated 'Jimmy' and his team. "It's been an absolute pleasure to be part of the event and we hope to be for some time yet," the talented amateur golfer said.