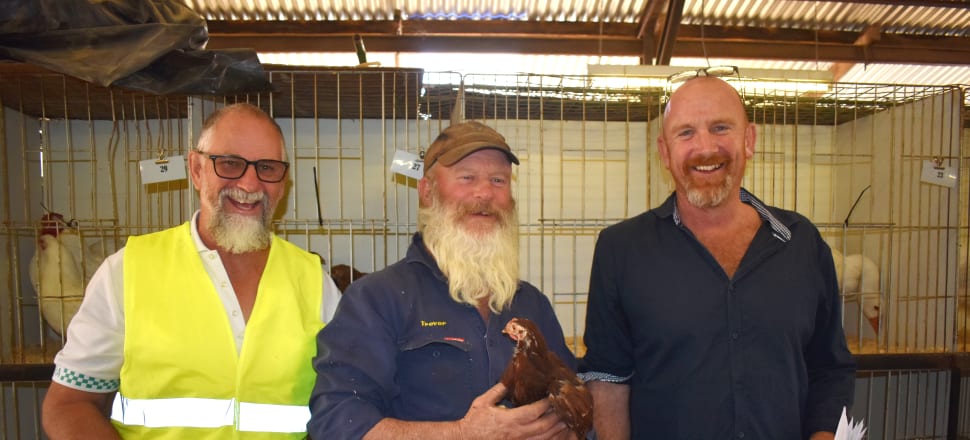 5370537724001
A large crowd flocked to at the P&A Society poultry shed at the Memorial Park showgrounds for the first Deniliquin And District All Things Feathered poultry auction on Sunday.
The auction, an initiative of the Donald family to raise funds for the poultry section at the Deni Show, saw more than 230 pens of birds sold.
A wonderful variety of poultry was on offer from local vendors as well as larger consignments from interstate breeders, who paid $3 a per pen to the cause.
There were more than 70 registered bidders on the day with many local children getting in on the action.
A total of $1040 was raised on the day, with the top sales including a pair of Chinese geese sold for $250, hen with guinea fowl keets for $110, a male peacock for $70 and multiple trios of Sussex and Silkies sold for $50 to $90.
All Things Feathered member Anthony Michael said the success of the event was thanks to the help of many volunteers.
"Christine and David Donald and their kids worked tirelessly to promote the auction and did the major share of receiving entries and preparing the recording system, which was a massive task," he said.
"A working bee was also held on Saturday, November 2 to repair and clean up the shed in readiness for the auction.
"Rodwells agent Matt Nathan donated his time as auctioneer and the local VRA conducted a barbecue, which added to the social atmosphere of people networking about poultry.
"There were many requests by those that attended about when the next sale would be and many favourable comments posted on the Deniliquin and District: All Things Feathered Facebook site.
"All in all it was quite a successful auction and an enjoyable day out."