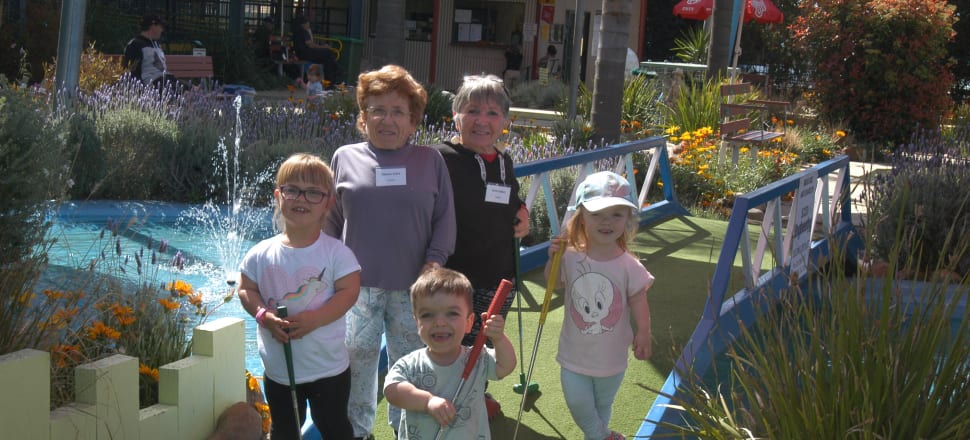 5370537724001
By Robert Muir
Three big groups of people loved being at Tunzafun in Mulwala on Tuesday and Wednesday last week of the school holidays, experiencing the new-look amusement park.
Established 35 years ago, Tunzafun Amusement Park has undergone substantial change in recent years with a complete make-over of the 18-hole miniature golf course.
In particular, over the past two years, several new rides have been installed, as detailed in the Yarrawonga Chronicle of September 25.
That coverage related to the major update opening on Saturday, 21 involving Federation Council Mayor Pat Bourke and some 200 people.
On Tuesday morning, October 1, 35 primary school age students from Wangaratta were accompanied by Just Kids After Care Co-Ordinator Gina Crossman and five casual staff.
Gina praised everything about the amusement park in the town's main street, Melbourne Street.
"It's fantastic, a great venue," she told the Yarrawonga Chronicle. "Kids get to have a go on everything. The Dodgem Cars is a real favourite."
In addition to 12 brand new Dodgem Cars, there's the TeaCup ride, motor racing ride with six character cars for the younger ones, four UFOs similar to the four new Krazy Cars and a 12-horse, two gondola carousel.
It's not the first time Gina has brought children over to Tunzafun. "I brought children over years ago. It's a much improved park now," she said.
Last Tuesday afternoon, (SSPA) Small Statured People of Australia with 40 children and 20 adults throughout Australia loved being at Tunzafun, their attendance having resulted from SSPA's National Convention in Townsville last year. "We googled it," parent Krysten Thompson from Rockhampton in Queensland explained about their choice of Tunzafun.
"Tunzafun is very well set up. The staff are incredibly helpful, ensuring safety of all children."
Based in Albury over the school holidays, 40 SSPA children and 20 adults loved their time at Tunzafun. "The UFOs are a real favourite, the TeaCup's a big hit and those Dodgem Cars are great – I'm going to take a ride myself!" Krysten said.
Forty prep and primary school children from Yarrawonga P-12 and Sacred Heart Primary School attended Tunzafun last Wednesday morning.
"Kids absolutely enjoyed the new rides and the new-look Tunzafun. They all loved the new experience," Co-Ordinator of Vacation Care Yarrawonga P-12 Briode Powell said. "It's an integral part of our program," added assistant co-ordinator James Shand.
Finley was also represented last Wednesday morning, with 14 children under the guidance of Biralee OOSH (Out of School Hours) educators, including Maicie Close.
Maicie praised the amusement park. "Tunzafun has a lot of activities. We don't have this at Finley," she said.
Under the umbrella of Mulwala Progress Association, the community-owned Tunzafun has a manager, Phil Bott, and volunteers.
It was full-on at Tunzafun over the school holidays and prior arrangements before the school holidays led to big groups having sole use of the park for two to three hours.
"The SSPA – for them it was absolutely enlightening," the Tunzafun Manager said. "After the big group left, we had a discussion involving all the volunteers as to what it meant to our visitors.
"The SSPA people just loved it. They said to have the park to themselves was simply wonderful. To see the smiles on those kids' faces was very uplifting for us. We enjoyed having all the groups."
Always on the look-out for volunteers, Tunzafun would welcome any enquiries by would-be volunteers. It's certainly a good environment, for all ages.