Getting up, standing up and showing up
Local Aboriginal and Torres Strait Islander peoples in the community remain committed to keeping their proud culture and history alive which was very much on display at the Connections Walk and community celebrations held last week.
This year the national theme of NAIDOC week was 'Get Up. Stand Up. Show Up', a call for action to bring about systemic change and to keep rallying around mobs, Elders and our communities.
In a late celebration of NAIDOC week so school children, the next mob, could be in attendance Many Mobs Indigenous Corporation with Yarrawonga Health, and a number of local schools came together to take part in a Connections walk across the Yarrawonga Mulwala traffic bridge as well as community celebrations at Kennedy Park.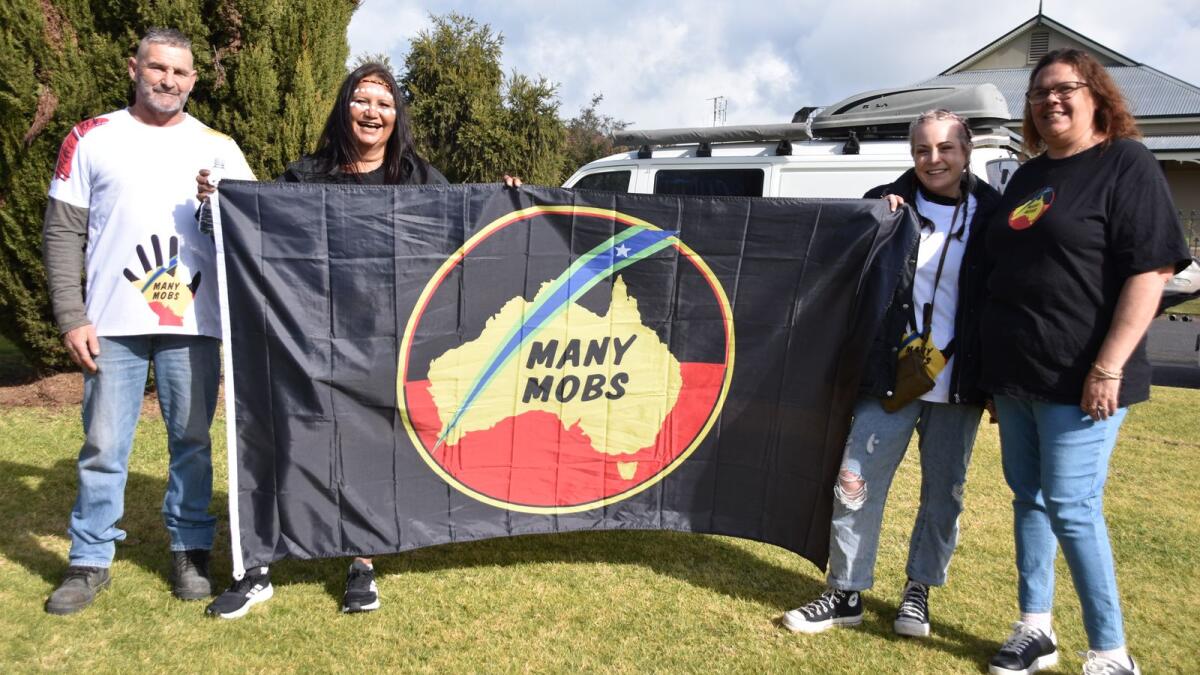 A great number of people took part in the smoking ceremony at Miss Ross Hill before joining the connections walk and making their way along the Yarrawonga Foreshore and down to Kennedy Park.
Many Mobs Indigenous Corporation Co-Founder and CEO Aunty Iris Troutman opened official proceedings and thanked all those for coming along and celebrating the indigenous history and culture.
"In the year 2022 here you all are, look around and feel proud," Aunty Iris said.
"I am proud of who I have got in front of me. You make me feel I am not alone anymore
"I've made that connection and I've made it with all of you today.
"We recognise the important role us Aboriginal people play within the community.
"We acknowledge this land has been under our custodianship for over 60,000 years.
"How are we going to look after this land. I will leave you all with one thing, look after the land and the land will look after you in return."
Yarrawonga Health Board Chair Erin York then spoke about how proud Yarrawonga Health is to have been able to continue this celebration with Many Mobs for the past five years and how wonderful it is that the community, schools and kindergartens are so supportive.
Yarrawonga Health CEO Elaine Mallows spoke about the commitment that Yarrawonga Health has to reconciliation with all Aboriginal and Torres Strait Islander people, and to working in partnership to ensure that the services they are providing are welcoming, appropriate and provide equitable access to all people at all times.
Before the Dharnmoo Bangerang Dancers were introduced and performed their traditional dance, Many Mobs Indigenous Corporation Chairman, Uncle Lance Boardman spoke.
"I want to welcome you all to Bpangerang country on the beautiful Lake Mulwala," Uncle Lance said.
"If you are wondering why our connections walk is today and not during the usual NAIDOC Week is because we wanted to give our young mob the best opportunity as a group to participate in today's events so we waited until school was back for that reason.
"All of you here today has given us a lot of pride.
"Over the last 250 years strong Aboriginal people have got up, stood up and shown up.
"We must continue to be strong and get up, stand up and show up everyday to continue the fight for recognition of the oldest culture on the earth."
Some lunch, fun and games then ensued after the formalities with the 200+ school and kindergarten children treated to a session of traditional indigenous arts and crafts, traditional aboriginal face painting, painting native Australian animal wooden cut outs and boomerangs as well as taking part games led by students from the Academy of Sport, Health and Education (ASHE) in Shepparton.
The day was thoroughly enjoyed by students, teachers and all involved.