Yarrawonga District Little League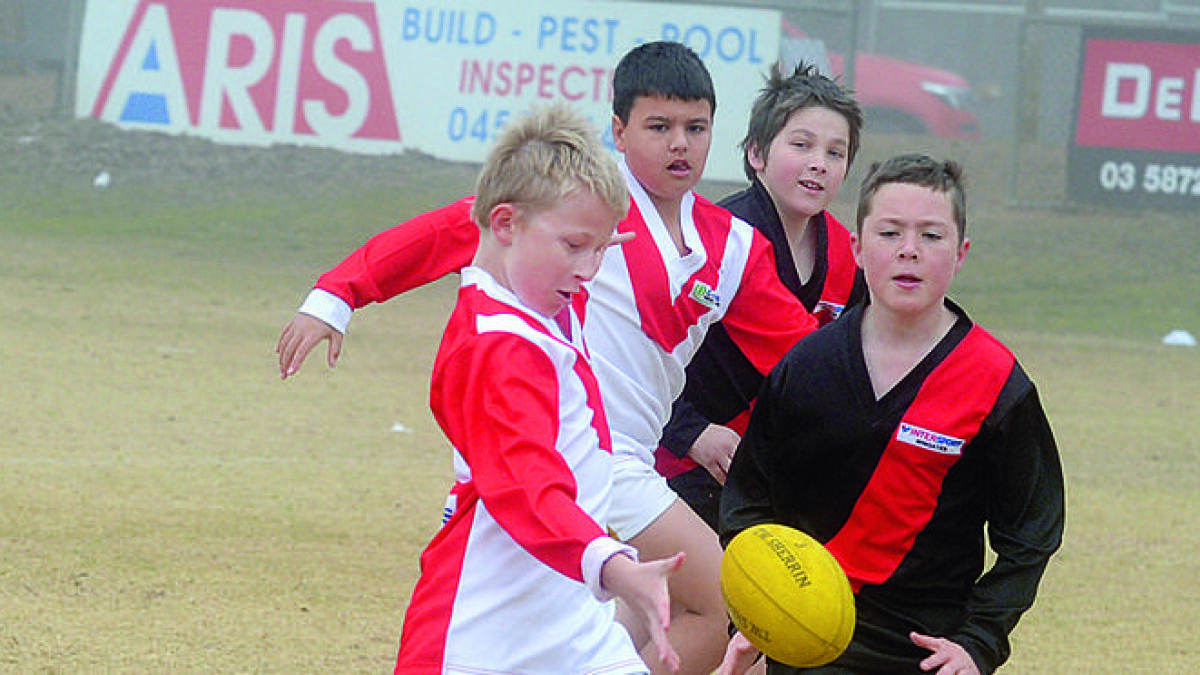 The fog rolled in at the JC Lowe Oval just in time for the start of round 3 in the YDLL. 
Despite the fog there was some really tremendous football, all played out very well. 
Special mention to the senior Pigeons players that came down on Saturday to give some support. Senior coach Mark Whiley along with senior player and champion bloke Ned Mullins took the reins with some umpiring, ground set up and coaching throughout the day. 
Very helpful and great to see them around with the kids. Great stuff. 
Due to the current Border restrictions, Nathan Tresize and his team in NSW were able to offer an Auskick and junior footy program at Mulwala on Saturday morning for all NSW members. 
Although this is not ideal, it is a terrific initiative to be able to keep the kids engaged and offer the best we can in the current environment. 
All 40 kids that were in attendance on Saturday had a great time and were very great full to have the opportunity. 
We are unsure what this week will bring so all we can do is watch the government announcements. Stay safe. 
SCORES
Under 8 
Bombers 2-3-15 def Swans 2-2-8
Bombers Goals: Stillo, Medcraft. Best: Stillo, True, Wollington, Thomson.
Swans Goals: Bourke. Best: Brax, Ednie, Zeke, Small, Cummins.
Magpies 2-2-14 drew Roos 2-2-14
Roos Goals: Haebich, Campbell. Best: Gilbert, Heabich.
Pies Goals: Strawhorn 2. Best: Tom Cummins, Noah Lawless, Tyler Buerckner.
Under 10
Swans 9-4-58 def Bombers 1-2-8
Swans Goals: Noah Thomson 3, Chessells, Dodd, Tate Thomson, Ollie Seal, Tom Conway. Best: Noah Thomson, Xavier Chessells.
Pies 4-0-24 def Roos 2-4-16
Pies Goals: Harry Wrenn 2, Mac Hargreaves, Cohen Shoppee. Best: J Davis, L O'Brien, Sam Cummins, Mac Hargreaves. 
Roos Goals: Aiden, Olly W. Best: J Smith, H Cummins. 
Under 12
Swans 9-10-64 def Bombers 2-6-18
Swans Goals: Sam T 3, Cooper Clarke 2, Ed, Lucas Eales. Best: Trembath, Conway, Ed, Clarke.
Bombers Goals: Jai Sneddon 2, Best: J Seddon, M Tyson, L Tonna, Mac Hargreaves, Nick Chadwick. 
Pies 8-7-55 Def Roos 6-5-41
Pies Goals: A Jacques 3, B Doyle 2, A Doyle 1, C Strawhorn. Best: Nagle, A Doyle, C Strawhorn. 
Roos Goals: Millar 2, Joel 3, Lucas 1. Best: Lucas, Millar.