Ben's incredible 15km feat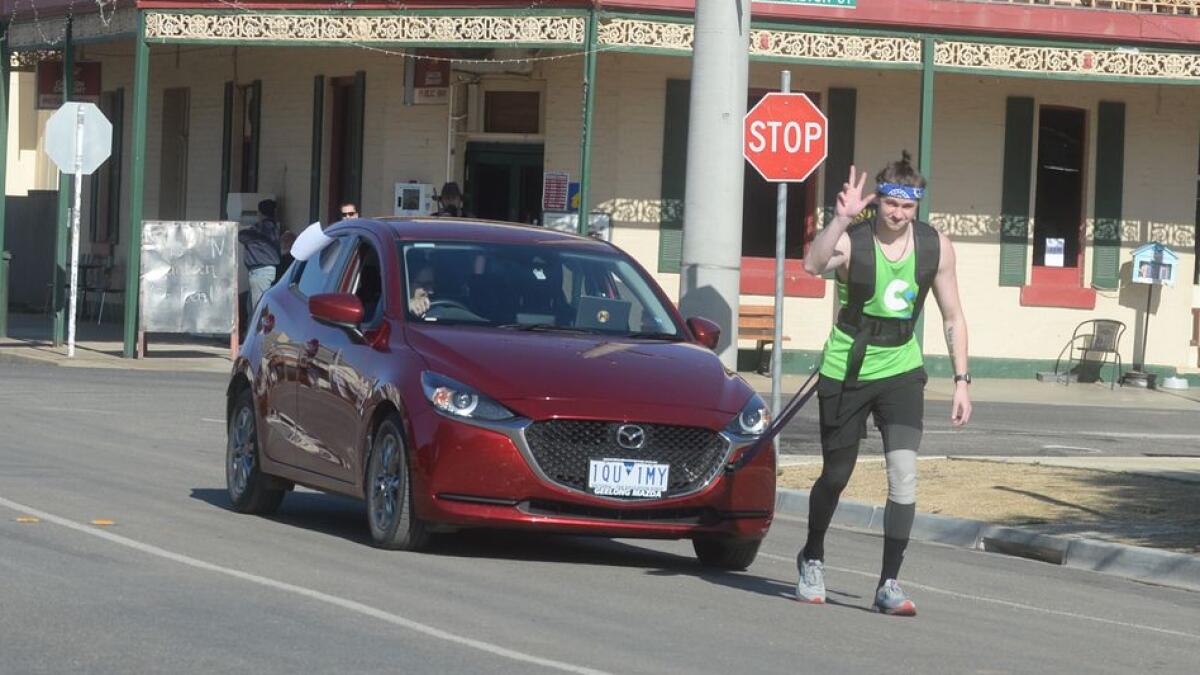 An unusual sight was to be seen in Tungamah on Saturday with local Ben Humphreys pulling a Mazda two car by his shoulders 15km around town to raise money for Canteen.
Ben decided to take on the challenge a number of months ago after a friend of his lost their little brother to cancer.
This was his way of doing his part for the family whilst also being inspired by Ross Edgely, a British man who began a marathon pulling a 1400-kilogram car with the event dubbed "The World's Strongest Marathon.
He chose Canteen to donate to as they are an Australian not-for-profit that provides free and tailored support to young people aged 12-25 who are impacted by cancer.
"The day went really well and I actually had a great little crowd of some of the Tungamah community cheering me on which was really nice and actually helped me get over the finish line as well as people walking with me helping to keep my moral up," Ben said.
"Overall, it took me just under four hours of actual pulling time not including the short breaks I took every now and then which was about how long I expected it to last so that part was really good.
"But the pain I felt during was immense.
"The last five to six kilometres my legs were cramping up really bad to the point where I couldn't actually bend them anymore but I switched my mentality and after a little bit they went sort of numb so I was able to just keep walking.
"From donations on the day we raised $972 which was amazing and more than I had imagined so I was thrilled about that plus we have still got donations coming in online to the website I have with Canteen.
"All in all it was a really successful day and I had a lot of fun despite all the pain I was feeling from my legs and the soreness I'm experiencing now which is quite a lot.
"I really want to thank the Tungamah community for rallying behind me, especially the Social Club for their help on the day with a sausage sizzle and the Tungamah Hotel for their contributions throughout the day as well.
"I'm not planning on doing another car pull in the immediate future but I want to keep doing these crazy athletic challenges that push the boundaries of what the human body can do and I want to keep working with more charities that have meaning to me.
"So whatever I do next, I'm likely to work with a mental health charity for this one. I have a few ideas on the fire but nothing to confirm just yet."
To continue to donate to Ben's cause with the money raised to go to Canteen visit: https://www.raiseit.org.au/fundraisers/benhumphreys.